I have been crafting all of my life and I have tried a lot of different types of crafts. Like every crafter, I have a few favorite crafts and craft projects. I enjoy giving my handmade crafts as gifts, but I also enjoy decorating my own home with my own handmade craft items.
My Dedicated Website to Crafting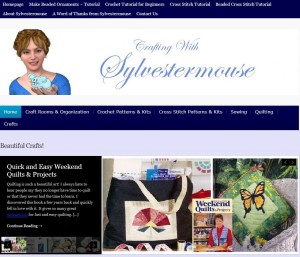 I have written several step by step tutorials for various crafts and craft projects. You will also find a few resource articles below the tutorials & kits.
Step by Step Craft Tutorials written by Sylvestermouse
I have also Included Articles featuring Some of My Favorite Craft Kits

How to Make a Very Easy Afghan with Loop Yarn How to Cross Stitch Tutorial How to Make a Quilt Magic Kit Wall Hanging Reviewed Beginner Crochet from the House of Sylvestermouse Tutorial How to Make a Mosaic Picture With HobbyWare PixelHobby Art Kits Tutorial How to Make a Sailor's Valentine Tutorial Make Halloween Ornaments With Easy Craft Kits Reviewed Wooden Decoupage Purse Tutorial Beaded Easter Eggs Tutorial How to Make a Halloween Beaded Cross Stitch Pin Tutorial March is National Craft Month How to Make Your Own Beaded Ornaments Tutorial in the House of Sylvestermouse How to Make a Christmas Spider Ornament How to Make a Mad Hatter's Hat Tutorial Animals Beaded Cross Stitch Kits How to Make a Christmas Sleigh Centerpiece Tutorial in the House of Sylvestermouse Potholder Pro Looms: How to Make Large Potholders Make Felt Cupcake Pincushions Tutorial Make Quick & Easy Glass Ornaments Tutorial How to Make a Halloween Ghost with Fleece Tutorial How to Make a Pom Pom Bee Tutorial How To Paint Your Own Garden Figurines and Decor Tutorial Angels Cross Stitch Kits Floral Beaded Cross Stitch Kits Fall Cross Stitch Kits & Patterns for Autumn Decor Easter Beaded Cross Stitch Kits Christian Beaded Cross Stitch Kits Valentine's Day Beaded Cross Stitch Kits Christmas Quilt Magic Kits Cross Stitch Ornament Kits Latch Hook Stocking Kits Christmas Beaded Cross Stitch Kits Felt Stocking Kits Latch Hook Tree Skirt Kits Thanksgiving Beaded Cross Stitch Kits Felt Silverware Holder Pockets Kits Christmas Latch Hook Decor Kits Quilt Magic Kits Halloween Beaded Cross Stitch Kits Halloween Perler Bead Kits Cross Stitch Christmas SIngle Ornament Kits Christmas Felt Kits Cross Stitch Stocking Kits Cross Stitch Tree Skirt Kits Felt Calendar Kits
Resource Articles written by Sylvestermouse

Sewing Baskets Needle Minders for Needlework & Sewing Enthusiasts Reviewed Wood Handle Seam Ripper – An Elegant Sewing & Craft Accessory Melting Hot Glue for Crafters – Hot Glue Pots Bead & Sequin Christmas Ornament Kits Reviewed Potholder Loom with Loops Cross Stitch Christmas Books by Better Homes and Gardens Make Your Own Halloween Costumes with Snazaroo Zoo Just CrossStitch Magazine in Print, on Kindle, & DVD Reviewed Cross Stitch Hoops & Frames Cross Stitch Floss Organizer & Storage How to Use Waste Canvas for Cross Stitch Best Organizer for Craft Supplies Victorian Paper Dolls
Originally posted 2013-11-13 07:09:37.