Why We Traveled to Rome, Italy
When our son graduated from high school, we wanted to give him a gift he would always treasure. Not something he would tuck away in a drawer and forget.
We considered a watch and a few other "standard" graduation gifts appropriate for guys. After much thought and great consideration, we decided on a vacation in Rome, Italy. You see, our son loves history, museums & travel.
I believe we made the right choice of graduation gifts.
A Place to Rest
Believe me, you need it after a day in Rome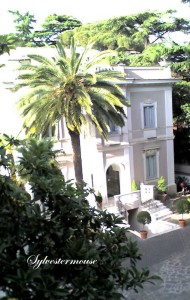 Because The Flora Hotel offered a two room suite, we chose to stay in Frascati. The price of the room was actually less than the cost of a single room in the hotels in the city of Rome. It required a short train ride each day to Rome and of course a train ride back at night, but the train was only a short walk from our hotel and it was definitely worth it. The train ride even afforded an opportunity to see some of the countryside.
We didn't spend very much time at the hotel, we basically just slept there, but it did provide a quiet respite from the chaos of the city.
The staff was friendly, the room was immaculately clean and the surrounding area was beautiful. I would definitely recommend it and I would gladly stay there again given the opportunity.
The Rome Itinerary
Much to my children's disdain, we never take a vacation without an itinerary. Rarely, do we have the same priority, so I schedule day by day activities so we can make sure everyone gets to do or see whatever is important to each of them in the limited amount of time.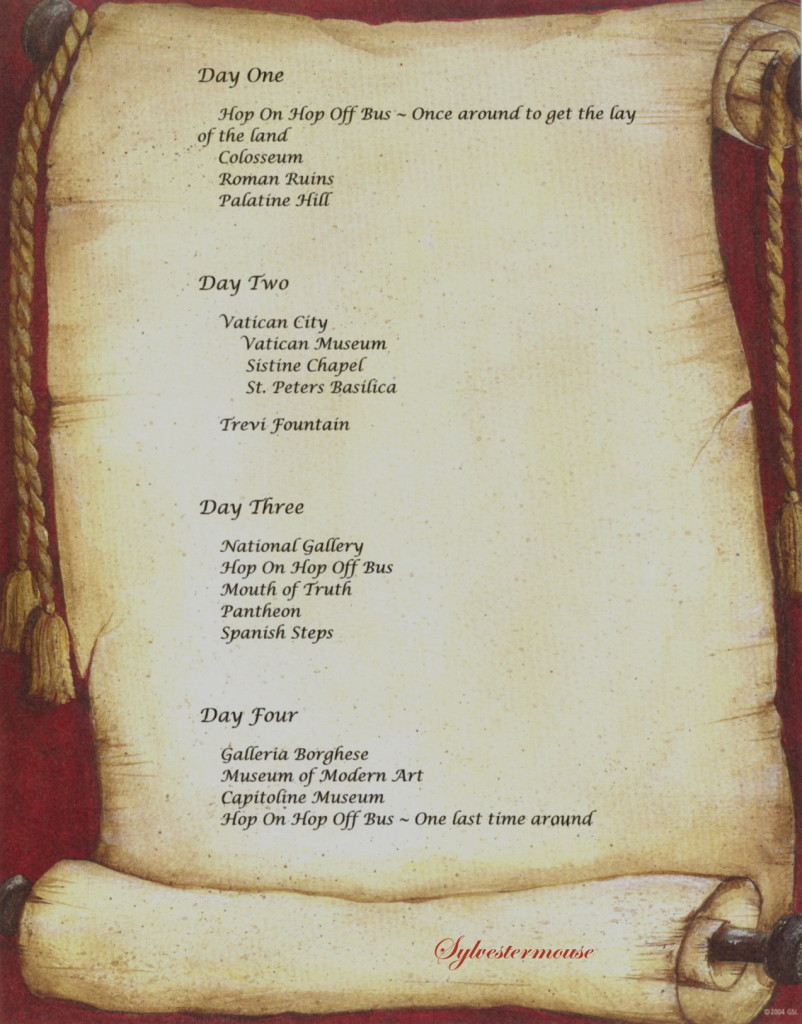 The Hop On Hop Off Bus in Rome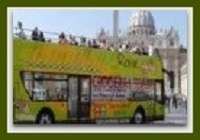 This is a wonderful way to start the tour of Rome. The Hop On Hop Off Bus Tours depart every 15 to 20 minutes and has 17 different stops throughout Rome.
We purchased 4 day passes so we could literally hop on or hop off at our desired stop. It makes seeing Rome easy and provides a resting place between points of interest. We prefer the top open section of the bus where we can take lots of pictures and it is cooler thanks to the breeze created by the bus moving. The buses are equipped with an audio system which functions in 6 different languages, providing recorded commentary throughout the tour."
Trevi Fountain
One of Our Favorite Rome Sights (Visited on Day 2)
Day 1: The Colosseum, Roman Ruins & Palatine Hill
There is no way to accurately describe the overwhelming, conflicting thoughts and feelings when standing in front of one of the most impressive architectural structures in the world today. It stands as a reminder of the power, the intelligence and the horrors of ancient Rome. As we toured the Colosseum, my headache and the tightness in my chest only intensified with each step. While the tour was extremely interesting, the unexpected emotional response was paramount.
A short walk from the Colosseum, is Palatine Hill were we got a really close up look of Roman ruins. Palatine Hill overlooks the Roman Forum on one side and Circus Maximus on the other side. The views of each are phenomenal.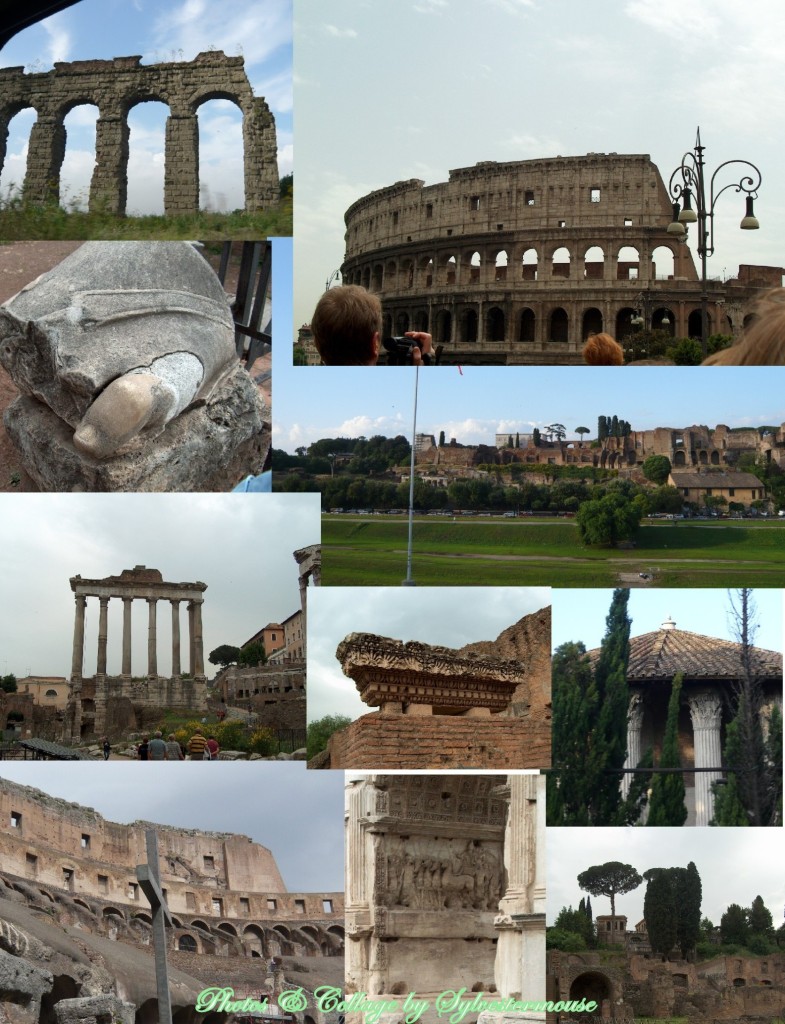 Day 2: Vatican City
This city is located inside the city of Rome. We started our tour in the impressive Vatican Museum. The museum is literally wall to wall art. It is filled with valuable sculptures, paintings, tapestries, and other treasures. I would like to have a week to just wander the museum at my own pace. It would be impossible to choose my favorite piece of art in the museum but high on the list would be what was high in the museum, the ceilings. Long before you reach the renowned Sistine Chapel, frescoes cover the ceilings.
We, of course, lingered in the Sistine Chapel trying desperately to see it all. Sadly, my memory is inadequate to sustain the beauty. I now have to look at pictures and hope to recapture a little of the awe for the brilliance of Michelangelo.
Regardless of religious beliefs or church affiliation, we were once again rendered speechless in St Peter's Basilica. Again the opulence of it was breathtaking! Something I did not know before we went to Rome is that it is the burial site of Peter, one of the apostles of Christ. I also did not know that it has the largest interior of any Christian church in the world. It holds an unbelievable 60,000 people.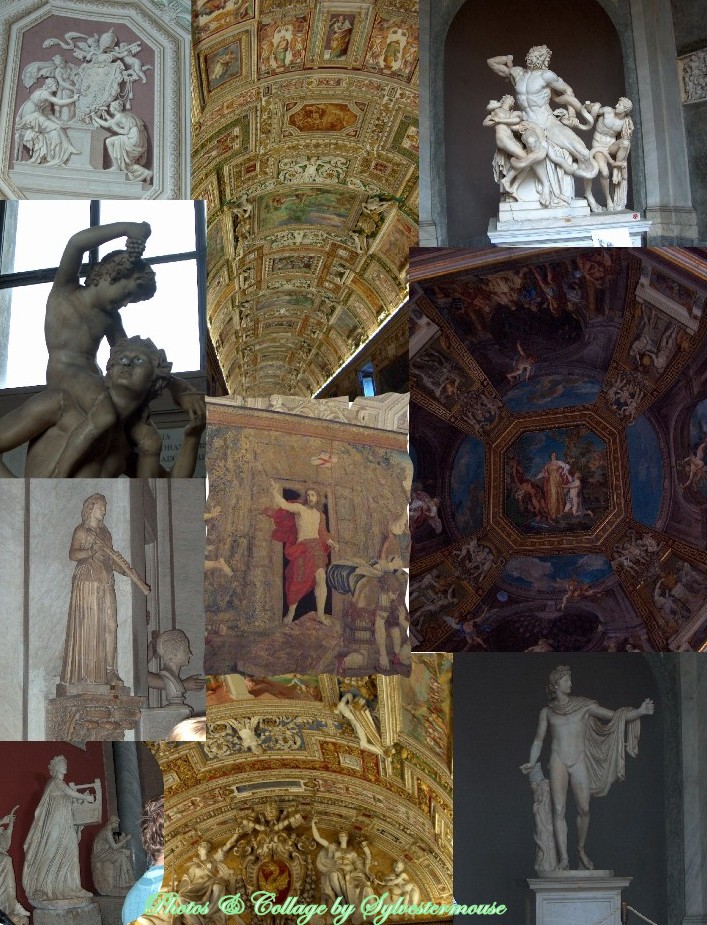 Day 3: National Gallery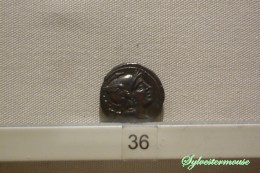 We spent most of one day at the National Gallery in Rome. Let me tell you it was well worth it!
This enormous gallery is absolutely filled with sculptures, paintings, and artifacts, but our favorite was the vault of coins. Unbelievably, they have coins that are 2000 years old in near mint condition. I don't know how many times I heard "wow, look at this!"
Several different times, we actually got separated from each other for a little while in this museum simply because one or the other was so engrossed in what they were looking at, that they were left behind as the rest moved on.
The mosaics in the National Gallery were fabulous. Such works of art!
We almost forgot to take pictures.
Day 3 Continues: Pantheon, Spanish Steps & the Mouth of Truth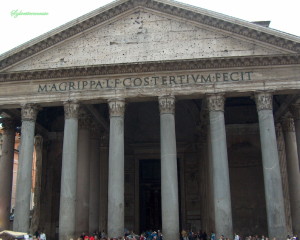 Not only does this architectural marvel contain the tomb of Raphael and several Italian kings, but it is also another gallery that is host to sculptures and painting.
What makes it unique is the oculus which is the opening in the top of the dome. When it rains outside, it can rain inside but the floor is slanted so it drains quickly. When the sun is up, it lights the interior of the Pantheon through that oculus. In addition, it is a church and they do hold services.
It was after we left the Pantheon that we discovered the most wonderful treat.
Gelato Ice Cream. You win Rome! America has nothing that can compete with your ice cream.
The Spanish Steps are exactly that: Steps. Sadly, the day we were there, they seemed to be a resting place for beggars. While they obviously have their place in history as the longest and widest staircase in Europe, there would not be anything outstandingly remarkable about them to someone who does not know their significance.
Of course, we had to make our stop at the mouth of truth in the portico of the Church of Santa Maria. Legend has it that if you are a liar and you stick your hand in the mouth of truth, it will be severed. Fortunately, we all retained our hands.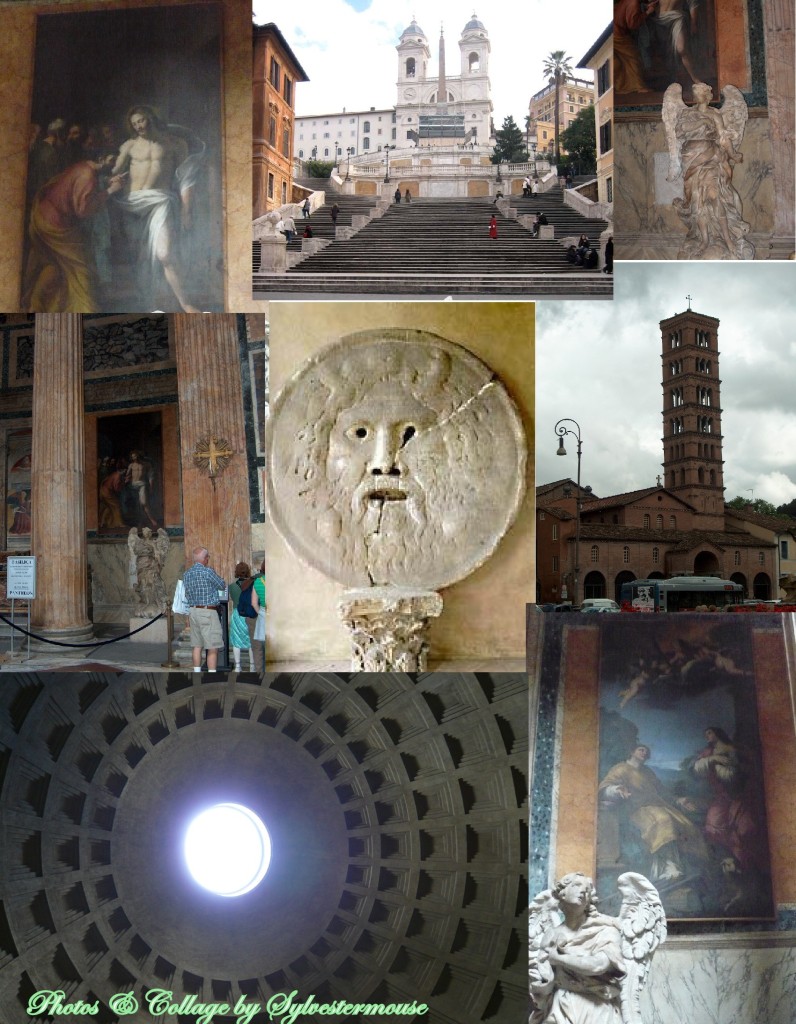 Day 4:
Galleria Borghese, Capitoline Museum & Museum of Modern Art
By now you know we like museums. All three of these were well worth the time but I am about to share Rome's best kept secret.
The Galleria Borghese was the hardest to gain admittance. We had to purchase our tickets in advance. They allow only a certain number of guest in at a time and they were sold out the week we were there. When you go to Rome, be sure to purchase your tickets for the Galleria Borghese before you leave home. The baroque frescoes on the ceiling, collection of paintings, sculptures, mosaics and base-reliefs were numerous. This is where we saw Bernini's David and Apollo chasing Daphne, a gorgeous Orpheus mosaic, and Raphael's Deposition painting. I don't have any pictures to share because taking pictures was not allowed.
At the Capitoline Museum, the only museum where taking pictures was allowed on this day, was huge. It is contained in two different buildings connected by an underground passageway. There are quite literally tons of statues and reliefs and a tremendous balcony area that overlooks the Roman ruins which is a great photo opportunity. Even now, I'm not sure if we made it to every room and saw everything.
We were fortunate enough to see a Renoir exhibit in the Museum of Modern Art, but sadly, we were not allowed to take pictures there either.
Capitoline Museum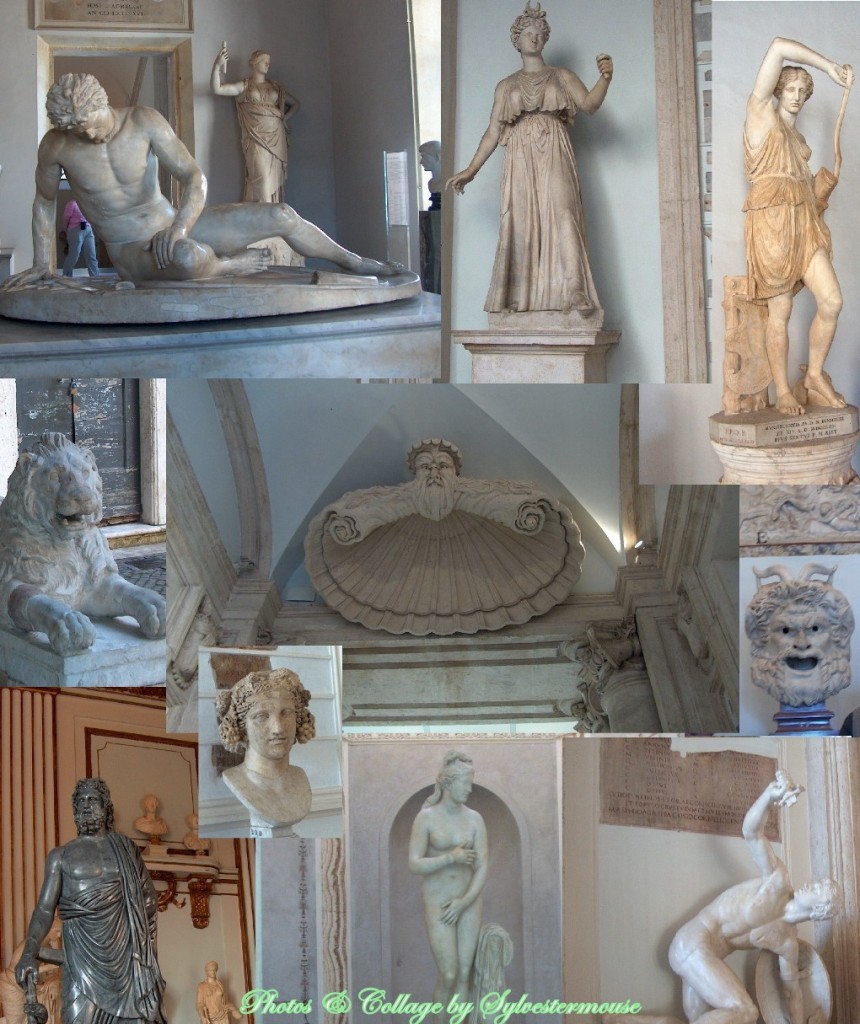 Whose Gift?
This concludes the snapshot tour of our vacation in Rome. What started out as a gift for our son, resulted in a wonderful memory of time together in a breathtaking city. Truly a priceless gift for each of us.
One more thing: When you go to Rome, buy the Roma Pass & Archeologia Card. They will definitely save you money.
Photos of Rome
Exclusive Rights of Photos
The Photos in this article are the Exclusive Property of ©Sylvestermouse.
Please Do No Copy, Reproduce or Use the Photos without the written permission of Sylvestermouse Cynthia.
I am offering many of the photos for purchase at Zazzle.com if you would like to own a legal copy via the link directly below, including the photos of the Trevi Fountain, the Colosseum, photos taken at Vatican City and lots of the statues. Please visit my store there if you would like to purchase any of these photos.
The Photos of Rome by Sylvestermouse Are Available for Purchase at Zazzle.com
Thank you!

Originally posted 2015-12-09 17:21:31.