Presentable Trash Can Gifts!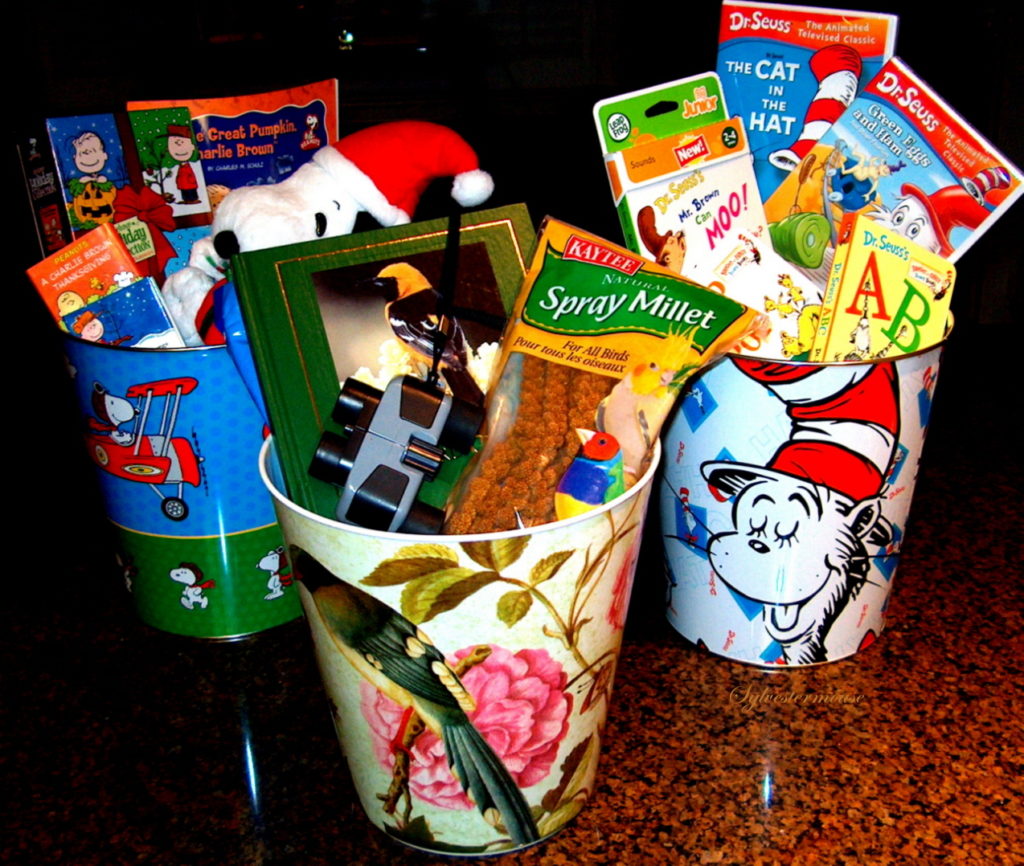 Because I enjoy giving unique gifts, I started putting these unique gift basket sets together years ago.  They are always a big hit with the recipient.  Plus, they make a really pretty presentation.
These trash can gift baskets make great gifts for Christmas, birthdays, Mother's Day or Father's Day, Valentine's Day, house warming gifts or even a wedding gift.  They are an excellent alternative to the traditional Easter basket.
These gift baskets are very easy to put together.  Simply choose several related individual items and a corresponding trash can to make your own unique gift basket.
How to Begin
Stuff the bottom of the trash can with butcher paper, newspaper, or tissue paper
Children's Gift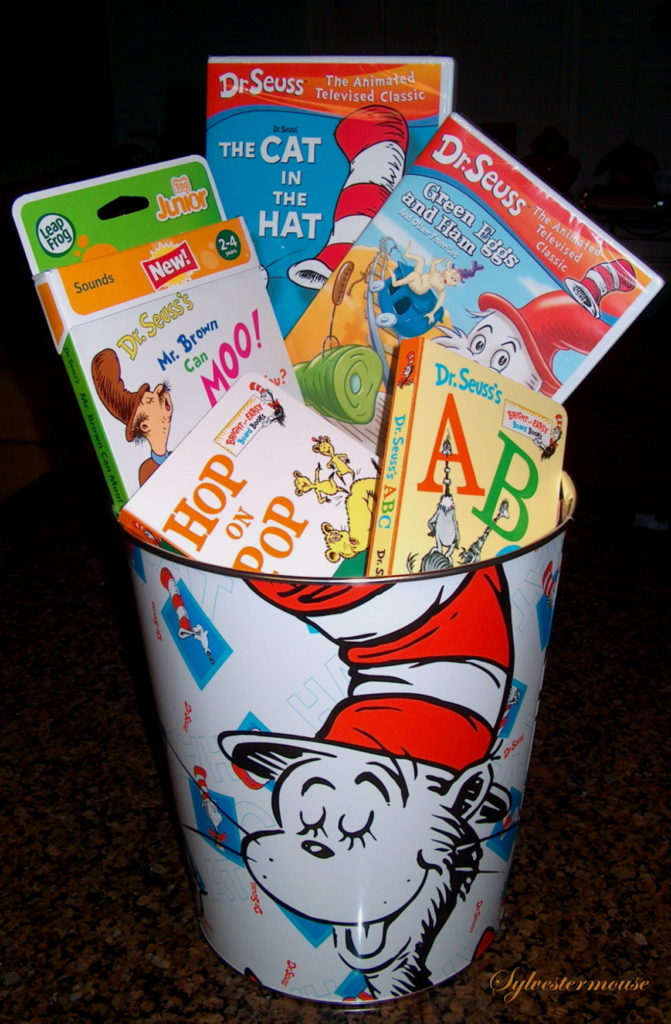 What better gift for a child than a collection of Dr. Seuss DVD's and books.  They will love it and have hours of entertainment.
Included in this set are:
2 videos,
2 small books to read
1 medium size interactive book
Other items that could be included:
Plush Toy
Christmas Tree Ornament
Dr. Seuss Hat
Dr. Seuss Socks
Boxer Shorts
T-shirt
Item Placement
Don't Hesitate to Tape items together to make a Prettier Display
Peanuts or Snoopy Gift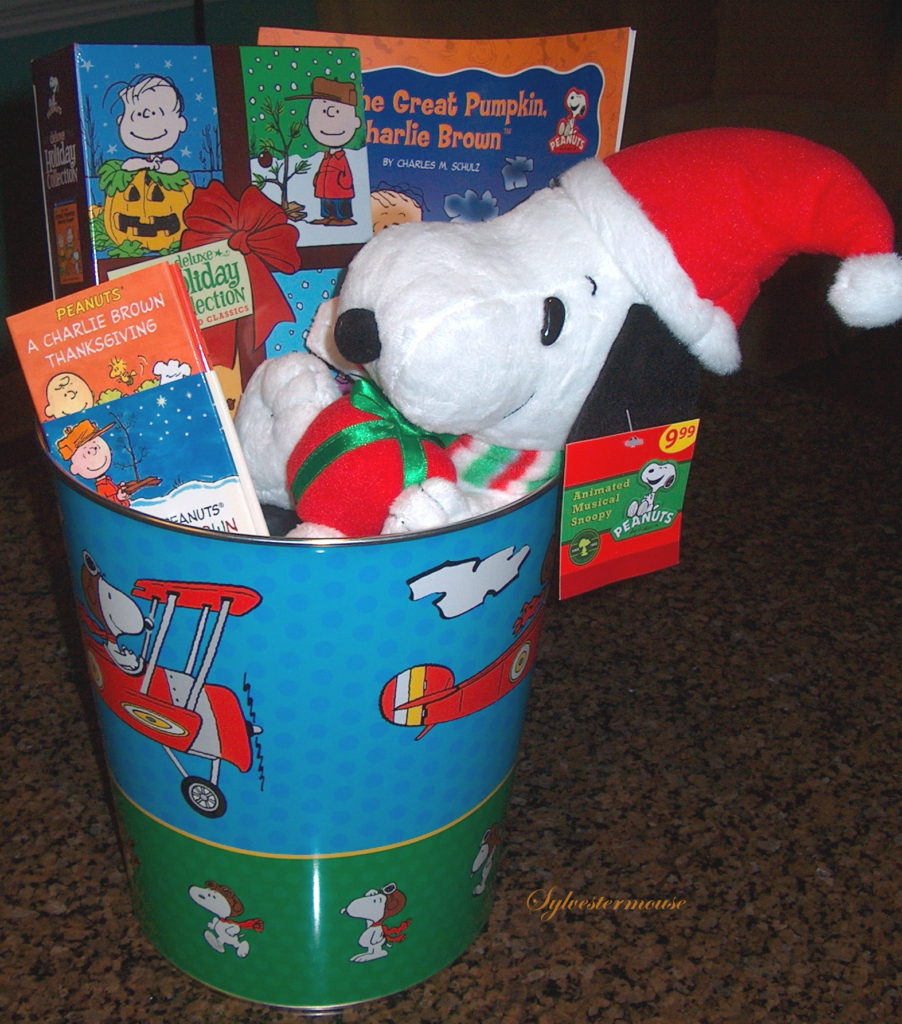 Who doesn't love Snoopy?!
This is an awesome gift for the Peanuts fan.  The many options for this collection made choosing a little more difficult.  I selected a Holiday video collection that includes "Charlie Brown Christmas", "It's the Great Pumpkin Charlie Brown" and "Charlie Brown Thanksgiving."  I added the "It's the Great Pumpkin Charlie Brown" book which includes stickers and two additional pocket size books.
Other options include:
Christmas Tree Ornaments
Charlie Brown Figurines
Peanuts Coffee Mugs
Peanuts T-shirts
You Might Consider Adding:
| Decor | Personal | Games |
| --- | --- | --- |
| Mouse Pads | Jewelry | Card Games |
| Calendars | Slippers | Puzzles |
| Action Figures | Key Chains | Calendars |
| Collectibles or Figurines | Cosmetic Bag | Travel Size Games |
| Snowglobes | Coin Purse or Wallet | Video Games |
| Photo Frames | Water Bottles | Coloring Books & Crayons |
A Gift for the Bird Watcher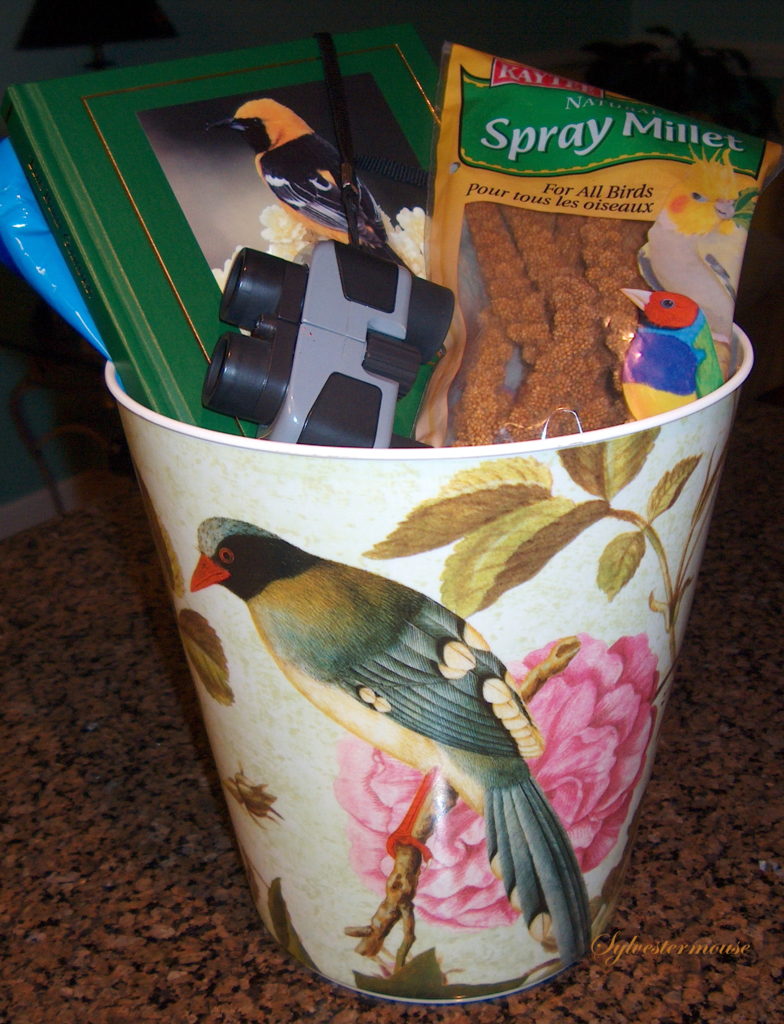 This is a very simple, fun collection to put together.  I chose a book about attracting birds to your yard and bird identities.  I included bird food and small binoculars.  Once the bird watching gift recipient places the food in their yard, then they can sit back in the comfort of their home and watch the birds gather.  Using their binoculars, they can get a close up look at a bird and then identify and read about it in their new book.
Other items that could be included in a Bird Watcher Gift Basket:
Coffee Mug
Coffee or tea
Bird Christmas Ornament
Video about bird watching
Finishing Touch
Place the Gift Set in a large Cellophane Bag & Tie the top with a Pretty Ribbon or Bow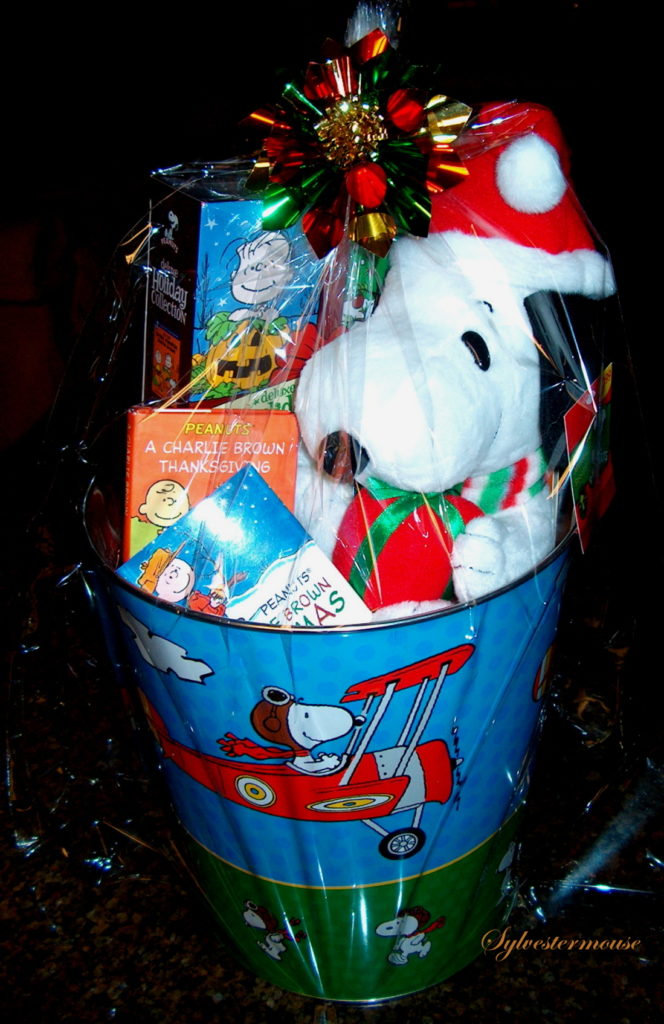 Where to Buy the Cellophane Bags and the Themed Wastebaskets
 Clear Cellophane Bags Basket Bags Cello Gift Bags Extra Large 24in. X 30in. 10 PackCheck Price
&
Originally posted 2016-10-13 09:58:34.