Gifts are a part of everyone's life. We all give and receive presents on a pretty regular basis. There are tons of gift giving occasions, starting with our birthdays. Every major milestone in our life is celebrated with gift giving, plus every holiday. At Christmas, presents are even a big part of our decorations.
There are a variety of people in our lives that we exchange gifts with. Men, women, children, spouses and loved ones, which include friends and co-workers.
Because they are such a big part of our lives, I have an entire site dedicated to gifts.
The Gift Menagerie Website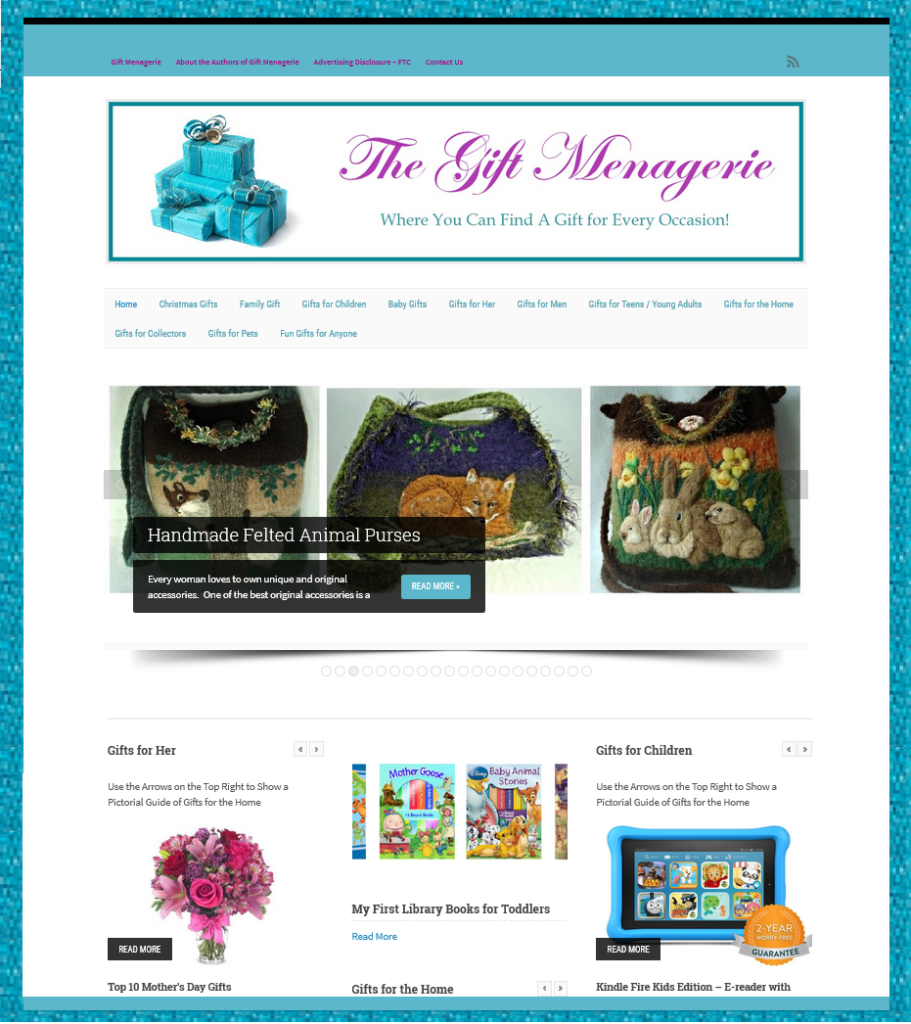 Not only do I own The Gift Menagerie website, but I also publish gift articles on most of my sites. Below you will find some of my own personal favorite gifts, but I love all of the gifts I feature on my sites.
You will find articles written by me on a variety of gifts for anyone. Some are gifts I have given to others, like the men or children in our family, for special occasions. Others are gifts we have received and are easy for me to recommend.
Here are Just a Few of My Favorite Gifts!
Christmas Gifts for the Cook
Featured on The Gift Menagerie
Stocking Stuffers for Crafters & Sewing Enthusiasts Reviewed Most Excellent Gifts for Men Most Excellent Gifts for Women Sunbeam Heated Throw BlanketFeatured on The Gift Menagerie Sennheiser HD280PRO Headphones Reviewed Top Ten Mother's Day GiftsFeatured on The Gift Menagerie Beautiful Franz Porcelain TeapotsFeatured on The Gift Menagerie Easy Clutch Purses for Special EventsFeatured on The Gift Menagerie Heart Shaped Serving Bowls & DishesFeatured on Be My Valentine World Gifts I Use EverydayFeatured on The Gift Menagerie Heart Shaped Soap GiftsFeatured on Be My Valentine World Three Magi Wise Men Table Topper KitFeatured on Christmas Craft Collection Black Diamond EarringsOn Victoria Fredericks Jewelry Box Flash Drive NecklacesFeatured on Be My Valentine World Crystal Candelabras & Candle HoldersFeatured on Beautiful Home & Garden Decor Fabulous Character Oven MittsFeatured on Heart of the Home Kitchen Lighted Fiber Optic Angel Tree ToppersFeatured on Christmas Time Treasures
Originally posted 2017-09-13 11:20:12.