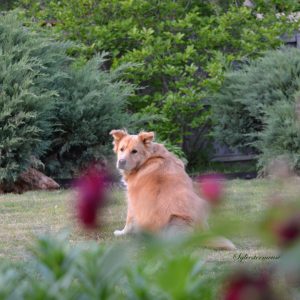 There are times when I feel like I was born with a camera attached to my hand. I rarely go anywhere without taking one of my cameras. I am always amazed by the beauty of the world around us, and I absolutely love taking pictures. Ironically, I absolutely hate being photographed.
My favorite subjects to photograph are my family members and our pets. These are personal pictures that I cherish. Actually, as the years have gone by, I have found that I treasure them above most possessions. The old photos allow me to see my loved ones who are no longer with us on this earth. They have also captured events and special occasions that will now forever be memorialized in scrapbooks, not just in our minds.
Animals Photography
Second only to the people in my life, I am captivated by animals. I can stand for hours watching one single animal in the hopes of snapping that perfect shot. However, there have been times when I discover something in photos that I didn't see with the naked eye. One such occurrence was when I was photographing Grizzly Bears. I had no idea this bear was watching me as closely as I was watching him. I honestly thought he was asleep!
The natural camouflage of animals is astounding! The black marking around his eyes prevented me from seeing that his eyes were open. Even now, I think how amazing it was that he was lying there so still, so relaxed and watched me photograph him.
You can see more of my favorite animal photographs on my website, Photography by Sylvestermouse, as well as on Amazing-Wild-Animals.com which features many of my photos.
Nature Photography
It is probably pretty obvious that if I love animals, I also love nature. Not only do I enjoy gardening, but my husband and I enjoy walking or hiking. We often venture into the woods or visit parks and gardens. On these types of outings, I always carry at least one camera, but I also have a small video camera that is fabulous.
Landscapes and Fun Activities
Landscapes and photographing landscapes follows in line with my love for nature. I have found that I, myself, take more time to fully appreciate a beautiful scene when I view it through the camera lens. So much I would simply overlook if I wanted though life without my camera.
Speaking of life, we all need those fun activities to make us feel alive. One of my favorite annual activities is going to the fair. Plus, you got it! It is the perfect opportunity for more great photos.
To see more of my fun activity photos, click here.
For the landscape photos, click here.
Life for Sylvestermouse
There are many things in life that are hard, and many things that are fantastic. Most days fall somewhere between. However, it never fails that if I have my camera, I can find a beautiful focus for every day.
To See More of My Published Photos, Visit Photography by Sylvestermouse (sylvestermouse.com)
Originally posted 2016-09-15 12:49:12.