Why I Sell on Ebay
Over the years, I have been interviewed several times about the success of my Ebay store. The interviews always start with the question, "How did you get started selling on Ebay?" That is a question I always enjoy answering.
My love for crafts, coupled with my desire to be self employed, led me to start selling on Ebay. I really enjoy being my own boss, setting my own schedule, and basically working at my own pace without any pressure. I can also go on vacation, even if it is a staycation, whenever I need a break.
Why I Sell Patterns and Craft Kits
Because I love crafts and have several decades of experience with many different crafts, I mostly focus on selling patterns and craft kits on Ebay, simply because that is my area of expertise. I have been sewing, crafting, beading, etc. pretty much my entire life. I also crochet and knit and I completely understand trying to find patterns or kits that fit a particular skill level.
I have been thrilled to discover that needlework, quilting and sewing are not "lost arts" and that there are still plenty of crafters looking for the next awesome project. I really do enjoy being able to offer a variety of great patterns, kits, and crafting books for varying skill levels.
Shopping for Crafts Kits and Patterns in the House of Sylvestermouse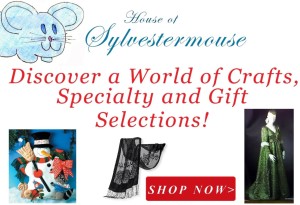 With everyone so busy these days, it is hard to find time to go shopping, mush less browsing the aisles for something that appeals to us. In the House of Sylvestermouse on Ebay, I offer a way to browse at your leisure and to purchase patterns and kits online 24 hrs. a day, 7 days a week and to have them delivered directly to your door without the hassle of leaving home. All of my items are from a smoke-free environment and I don't wear or expose my items to any types of perfumes or fragrances, so people who suffer with related allergies need not worry.
Visitors, guests, friends and family are always welcome in The House of Sylvestermouse!
There are over 200 Items currently Available in my Ebay Store. Here is a sample of what you will find there!

Originally posted 2013-06-27 22:44:04.