Valentine's Day in the House of Sylvestermouse is a celebration of love. Even though my main focus on this holiday is on my husband, I can't help but include the other people in our lives that we love too.
As parents, we encourage our children to celebrate love and friendship by exchanging Valentine's Day cards in their classroom. We often bake heart cupcakes or specialty cakes for parties or Valentine's Day banquets. But regardless of the activity of the day, we are thinking about love.
I have a site dedicated to Valentine's Day where I share a variety of articles on love: Romantic love, family love, and friendship love. There are many ways to celebrate Valentines Day!
Have fun and let your love show.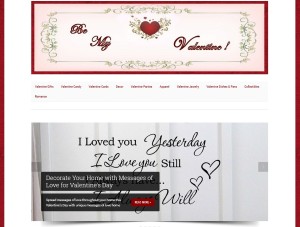 Valentine's Day
Valentine Coffee Mugs Valentines Day Cards for The One You Love Decorate Your Home with Messages of Love for Valentine's Day Valentine's Day Cards for Kids to Exchange Love Quotes for Blank Valentine Cards Valentines Day Gifts for Kids Shop By Age Beautiful Valentines Day Aprons Heart Necklace & Earrings Sets Precious Moments Figurines for Valentines Day Give the Gift of Roses that Will Never Die Heart Shaped Serving Bowls & Dishes Valentines Day Throws and Blankets Say I Love You With … a Flash Drive?? Valentine Barbie Dolls Valentine Plush Animals Phone Covers for Sweethearts Valentine Heart Cake Pans Couples Jewelry for Valentines Day Valentine Puzzles
&nbsp:
---