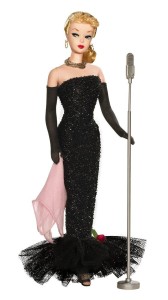 Why is Barbie my favorite toy?
Quite a few years ago, I was given the challenge to write about my favorite toy. It was a rather interesting exercise. My head was instantly filled with ideas, which were quite varied. I considered my favorite adult toys which include cell phone, my computer, my sewing machine and even my husband.
Any of these would qualify for my current favorite toy, but I kept coming back to Barbie, which was my favorite childhood toy. Actually, I never outgrew my love for Barbies.
I always get excited to see the new Barbies in the stores, but I have to admit, the retro Barbies take me back to my youth. They are definitely a personal favorite.
My First Barbie Doll
35th Anniversary Doll Special Edition Reproduction of Original 1959 Barbie Doll & Package! – Brunette Hair (1993)Check Price
Barbie has been my companion almost all of my life. My first Barbie doll was the brunette doll in the black & white swimsuit.
That doll went everywhere with me. My mother made her clothes and I had a tote bag just to carry Barbie and her accessories.
When my sister got her first hair cut, my Barbie got her first hair cut. Sadly, Barbie's hair did not grow back, but I still loved her.
The Reproduction of the Original Burnett Barbies
This reproduction was released in celebration of Barbie's 35th anniversary.
The reproduction shown on the right that is available today is most like my original.
For those of you who prefer blondes, this reproduction of the 1959 Barbies was also issued for Barbie's 50th anniversary. (Shown Below)
Barbie: The Original Teenage Fashion Model DollCheck Price
My Next Barbie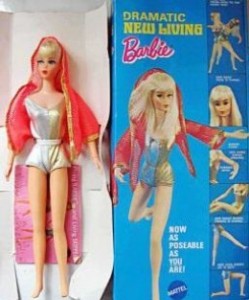 In my time (I think I am old enough to use that phrase now) we didn't collect one of every style, make and model produced, so it was a few years before I received my second Barbie. When I did get her, she was very special indeed. She was one of the "new, living Barbies" with bendable legs. Wow, she was fabulous. The best gift ever!
This one had blonde hair and I thought she was the most beautiful doll in the world. My mom made more clothes for her. She even made a fur wrap for my Living Barbie. When she was dressed in her evening gown and fur wrap, she looked like a glamorous movie star.
Barbie's Car and Case
SPORTSCAR AUSTIN HEALEY Barbie's FIRST SPORTS CAR (1962 IRWIN/Mattel)Check Price
The next year I received a Barbie's Car and Case. Barbie and I had so much fun zipping her across the den floor in her new car and stopping outside her new Barbie home.
I have no idea how many times the wheels came off that car, but my Dad always fixed them and life for me and my Barbies went on.
I still that car. Well, I actually gave that car to our daughter and she actually has that car today. I sure wish I had one in the box like the one featured here. Although, in all honestly, I doubt I would consider selling it.
In case the car above is no longer available, I would recommend checking eBay. Sellers on eBay often have wonderful vintage collectibles.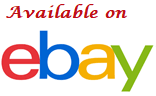 A Reproduction of the Original Barbie's Case
A reproduction of the original carry case was released in celebration of her 50th anniversary.
My Latest Barbie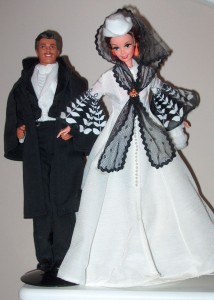 While I am far from a "serious" collector, I am still drawn to Barbies. Some of the collector dolls are absolutely gorgeous!
My latest Barbie was given to me several years back. I received the "Gone With The Wind" collectors set, Scarlett and Rhett. I do not keep them in boxes stored away so I can never see them. No, they are proudly displayed. A truly serious collector would keep them in their original box.
I couldn't care less if having them displayed decreases their value. I didn't even keep their boxes. I want to enjoy them!
One can never tell. I just might buy them a jazzy new car and let them zip across my den floor.
This set is still available to purchase and I have the link to the Scarlett doll below. Rhett is also available through that same link, but would need to be purchased separately.
Scarlett Doll
Barbie® Doll as Scarlett O'Hara (black and white dress)Check Price
More Recommended Article on Barbies:
Barbie Angels
Angels and Barbies are always beautiful. But, Barbie Angels are exquisite! All Barbies are pretty, but some are exceptionally gorgeous like these Barbie Angels.
Holiday Barbies
Each year, I look forward to the annual release of the new Holiday Barbie doll. It has become part of our holiday tradition to purchase the new holiday doll each year. I am always excited to see her holiday dress for the current holiday. Her gowns are especially for Christmas!
Fairy Tale Barbies
The beautiful Fairy Tale Barbie collection is designed and created to replicate the fairy tale princesses we all grew up loving. I am sure you will find them as enchanting as I do.
Halloween Barbies
Did you know that there are also Collector's Barbies for Halloween? They are quite beautiful and truly unique. Their costumes are sensational and definitely among my favorites of all time.
Share This Article with Other Fans!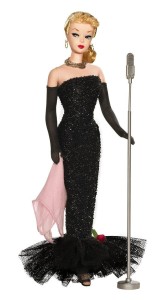 Originally posted 2016-02-10 10:00:50.