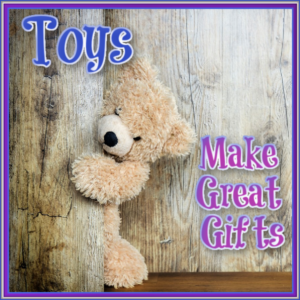 Regardless of age, we all love toys! Some toys are made just for children, but others are appropriate for a variety of ages. Collectors love toys like Barbies, Matchbox Cars, Legos, and more.
Over the years, I have reviewed a lot of toys on several different websites. Some I gave as gifts, others are collectibles that I, myself, collect. Of course, I enjoy giving collectible toys to other collectors too. I personally collect Barbies and Madame Alexander Dolls. Both collections were started during my own childhood. I loved my dolls so much that I have kept them, and added to my collection when I see a new doll that I love.
My husband enjoys his remote controlled vehicles. I've gotten rather accustomed to hearing the engine whir of his RC flying vehicles (planes & helicopters), as well as his ground vehicles. He has an awesome tank that fires little bombs. It is pretty cool to watch them shot off from the tank and hit their target. We have a utility box in our yard that is frequently the target. They are not powerful enough to damage the metal box, therefore it is the perfect object to point at and shot.
Toys Reviewed
Fast Click Directory – Select the Category to Skip Down to Specific Category Features
Barbies    Legos    Remote Control Toys Recommended Toy Websites
 Barbie Dolls Make Great Gifts Barbie Angels Barbie Photo Fashion Doll My Favorite Toy Barbaie Fairy Tale Barbie Dolls Twilight Barbies Johnny Depp Barbie Dolls
 Lego Monster Fighters Sets Spider-Man Far From Home Lego Set #76130 Reviewed The Best Lego Space Building Sets Lego Automobiles: Cars and Trucks Lego Friends Girls Will Love Spiderman Lego Building Sets Best Lego Train Building Sets Lego Ships and Boats Lego Planes and Helicopters Easter Legos Lego Star Wars Sets Disney Lego Duplo Toy Story Lego Sets Lego Architecture Sets Buildings & Landmarks Best LEGO Board Games – A Great Way to Share Legos Lego Display Shelves
 Remote Control Speed Racing Boats Remote Control Helicopters are Great Gifts for Men Remote Controlled Racing Cars Remote Radio Control Sailboats ~ Fun for All