My Christmas China Dinnerware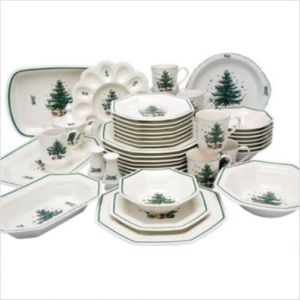 Eating our meals from my Christmas china is one of the traditions in our home at Christmas. Each year I carefully take the Christmas china down from the cabinet and my husband helps me hand wash it before we use it. After our meals, he helps me hand wash it again and put it away for the next year.
Decades ago, my parents, my husband and my aunt gave me pieces of my Christmas china for special occasions. I didn't get it all at once or even all the same year. They gave me dinnerware for Christmas and for my birthday. My husband gave me select pieces for our anniversaries.
Today, each place setting, each serving dish and each coffee mug has sentimental value that far exceeds the monetary value.
We were really young when the Christmas china was selected and we certainly didn't have money to waste. It was not easy for me to select one Christmas china pattern from all of the patterns available at the time. After looking at several department stores, I had selected two different china patterns that I liked. I thought I knew which one would be my final selection because I really preferred the shape of one of the plates, but before I committed to one pattern, I decided to do a side by side comparison of the actual pictures on the china. I am so glad I took my time and did that last comparison.
Here are the Two Patterns I Had Selected to Choose Between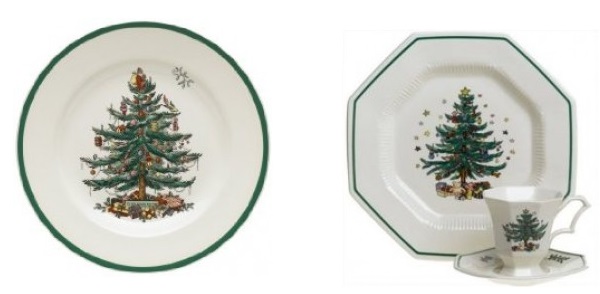 Spode Christmas Tree China Nikko Christmastime China
Your Choice – The China names are listed below each Christmas china pattern shown above.
Between these two patterns, which Christmas china would you have chosen?
My Christmas China – How well do you know me?
This is just for fun!!!
I bet if you look closely at the two patterns, you will know for sure which china pattern I chose.
The Answer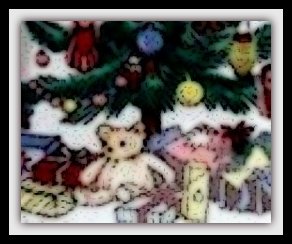 They are each beautiful patterns and obviously, I liked them both.
If you believe I chose the round, Spode Christmas Tree plates, you know me pretty well. I like round things. I prefer circles to squares; rounded or curved edges instead of pointed edges.
However, if you think I chose the octagon, Nikko Christmastime pattern, then you know me really well.
Only one patten had a teddy bear in the artwork and I had to have a teddy bear on the plates!
Nikko Christmastime China Still Available Today
Nikko Ceramics Christmastime Dinner Plates, Set of 4Check Price
I really do love my Christmas china dinnerware. I love the tradition of setting the dining room table with this beautiful Christmas themed china each year and our family gathering around for dinner.
After 20 years, just getting the china down, touching the plates and coffee cups brings back wonderful memories of many Christmas meals in our home.
I am thrilled that my Christmas china dinnerware is still available to purchase! I can still add or replace any pieces that I may need and I can recommend this beautiful china to anyone who wishes to start their own family tradition.
Nikko Christmastime Dinnerware ~ 3 Piece Place Setting
We started our tradition with 4 Place Settings. We are now at 12 Place Settings.
This 3 piece place setting is the updated, new line of the Nikko Christmastime china pattern. There are some slight differences, but they do still use the teddy bear Christmas tree pattern. Both the older style, like mine, and this newer version are available.
Nikko ChristmastimeCheck Price
The place setting featured above is a 3 piece place setting. Sometimes, you can still find the 5 piece place setting which includes the 3 pieces shown above, as well as a soup bowl and a saucer for the coffee cup.
Nikko Christmastime Serving Pieces
Nikko Christmastime Vegetable Serving Bowls and Large Oval Platter – 15-Inch (There is a 20″ Platter Available)
Currently, I have 3 Serving Bowls. Honestly, I could really use 2 more. I have two platters. I use one for the turkey and one for the ham.
Nikko Christmastime Large Oval Platter, 15-InchCheck Price Nikko Christmastime Oval Vegetable Bowl, 10-1/2-InchCheck Price
Nikko Christmastime Covered Sugar and Creamer
These are a part of my set and I love them! They are actually some of my favorite pieces. I love the unique shape of the handles!
Nikko Christmastime Covered Sugar and CreamerCheck Price
Nikko Ceramics Christmastime Teapot & Lid
I have this Teapot and I absolutely love it!
It is so much fun to just sit with my daughter, my teapot and two coffee cups full of coffee or tea. A great way to spend an leisurely afternoon.
Nikko Ceramics Christmastime Teapot & LidCheck Price
Nikko Christmastime Footed Coffee Mug ~ 12-Oz ~ Set of 4
Nikko Christmastime Footed Coffee Mug, 12-Ounce, Set of 4Check Price
Years after I was given my original Christmastime china, my parents gave me 2 sets of these mugs. We all love them!
These mugs are larger than the cups included in the place settings and are perfect for those moments when you are simply sharing a cup of coffee.
Since I own both the Christmastime Teapot and Coffeepot (shown below), it is a simple matter of choosing which one I want to use to serve tea or coffee. Either piece always evokes comments about their beauty.
Combine the mugs, coffeepot or teapot, plus the sugar and creamer and you have a gorgeous server set elegant enough for any party, tea or luncheon.
Nikko Christmastime Coffee Pot and Lid
Oh, yeah! You have to have this! I love, love, love my coffee pot!
Nikko Christmastime Coffee Pot and Lid, 8-CupCheck Price
Caring for Your Nikko Christmastime China Dinnerware
Nikko Christmas Giftware Three Section TrayCheck Price
I wrote in the introduction that my husband always helps me hand wash our Christmas china. However, it is not absolutely necessary for you to hand wash this china. According to the manufacturers, it is oven, microwave, and dishwasher safe. I simply do not believe any china will truly maintain pristine condition if it is ever used in a microwave or washed in a dishwasher.
Therefore, we choose to hand wash our Christmas china in the hopes that it will preserve it longer. So far, we have no yellowing, no crackling or webbing in any of our pieces and we have had it for over 25 years.
Originally posted 2014-12-11 19:02:16.