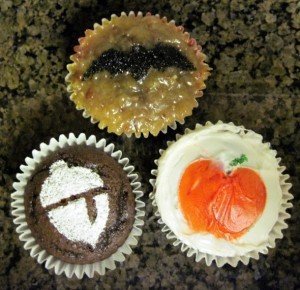 Stenciling cupcakes is easy and I am happy to show you exactly how to stencil cupcakes. I am including lots of step by step photos to help you see how fast and easy this type of cupcake decorating can be.
Stenciling cupcakes is one of the easiest ways that I have found to decorate cupcakes. It requires no artistic ability, very little imagination and only a few ingredients.
Since you are using a plastic template, it is very easy to decorate a pretty cupcake. It is also really fast compared to other decorating methods.
With these simple instructions on how to stencil cupcakes, you will find the hardest part is baking the cupcakes themselves.
I will be showing instructions for 3 different ways to stencil your cupcakes.
You choose which method you prefer before you purchase your supplies.
Of course, you might want to try all three!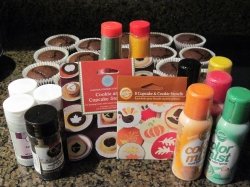 Supplies You Need to Get Started
Stencils
Baked Cupcakes ~ I baked Devil's Food cupcakes and iced some of them with Coconut Pecan Icing (German Chocolate Cupcakes) some with White frosting and some with Milk Chocolate Frosting
Your Choice Of Decorating Supplies
Confectioners Sugar OR
Sanding Sugar ~ your choice of colors OR
Color Mist Decorating Spray ~ your choice of colors
Stencils for Decorating Cupcakes
When stenciling cupcakes, I have used two different brands of stencils.
I have both Wilton Autumn Mini Stencil Collection and the Martha Stewart Fall Collection. In this article, I have used the Martha Stewart Fall Collection. The bat stencil is from the Martha Stewart Halloween Collection.
Either of these manufacturers make excellent stencil templates. Simply choose which design you prefer. I can highly recommend either Wilton or Martha Stewart cupcake stencils.
Stencils can be hand-washed and used multiple times. Each stencil is approx. 5″ diameter with a 3″ diameter image.
Martha Stewart Collection Fall Cookie and Cupcake Stencils: Apple, Maple Leaf & AcornCheck Price Wilton 8-Piece Autumn Mini Stencil SetCheck Price
How to Stencil Cupcakes Using Confectioners Sugar
Decorating a plain (non-iced) cupcake with confectioners sugar is extremely fast and easy. I do recommend using the sugar shaker cup shown in the photo which will allow you to literally sprinkle confectioners sugar onto your cupcake once the stencil is in place. It will cut down on the mess often associated with decorating with confectioner's sugar.
This slideshow requires JavaScript.
You can stop the slideshow on an individual photo at anytime by simply clicking the stop button. Restart it again by clicking the play arrow. Use the side arrows to easily slide from photo to photo.
An Up-close Look at the Confectioner's Sugar Cup – An Absolute Must if You are Decorating with Confectioner's Sugar
The Pampered Chef Flour/Sugar ShakerCheck Price
Using a Stencil on Cupcake with Icing
Decorate Cupcakes with Sanding Sugar
Sanding Sugar is a really pretty way to decorate!
If you want sparkle and shine, you simply can not beat sanding sugar.
Unlike some decorating gels or tubed frosting, Sanding Sugar tastes good. It has the texture and taste of regular white granulated sugar.
This slideshow requires JavaScript.
Sanding Sugar
CK Products 4 Ounce Black Sanding SugarCheck PriceSanding Sugar is available in a lot of different colors.
I used the black simply because I was decorating these cupcakes for Halloween and the black Sanding Sugar was the most appropriate color for a bat.
If I have been making cupcakes decorated with flowers, I would have used yellow, red or pink sanding sugar.
If I had made autumn leave cupcakes, I would have selected yellow or orange sanding sugar to color my leaves.
Because Sanding Sugar is a fine granulated sugar, it can be a bit tricky to use multiply colors with one stencil. I recommend using a toothpick to create "trenches" or separations between colors and work very slowly between the lines you have drawn.
Decorate Cupcakes with Color Mist Spray
Color Mist Spray comes in a variety of colors and collections.
Remember, Color Mist is just a mist. It will not do a heavy colored stencil design. If you try to get heavy color, it will run under the edges of your stencil.
This slideshow requires JavaScript.
Color Mist Spray
Wilton Master Color Mist Food Color Spray Kit (Includes all 8 Colors in 1.5 oz. Cans)Check Price
Originally posted 2015-03-11 16:59:33.