Bringing Home a New Pet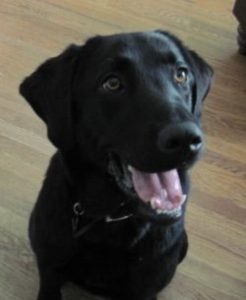 A few years ago, our oldest dog died and our family was devastated by the loss. To some, I suppose that seems odd that we would grieve so much over a dog, but we consider our animals to be family members.
Just like every other member of our household, our dogs have responsibilities and they are deeply loved. Our beautiful black lab was our "first alert" security system. Trust me when I tell you, his bark alone could scare away any would be intruder, but if they were insistent enough to proceed, his bared teeth did the trick. He never actually had to bite anyone for them to get the message to "get away." He fiercely protected our children who were 6 and 11 years old when he joined our family. He also helped train new dogs. He would simply show them where to go and what to do there. He was a wonderful instructor who taught by example. His expressive face and demeanor would let them know if he was displeased with their performance.
Because our "big dog" was such a tremendous asset to our household, we wanted to adopt another Labrador Retriever in the hopes that he might carry on the same noble traditions.
Just look at him. Don't you think he looks eager to get started?
The Selection Process ~ Our Story
There was clearly a higher power at work on the day of our selection. I woke up that Saturday morning with an urgency to adopt a new dog. We were simply not ready to bring home a new baby before that day. I told my husband we should go to the shelter and choose a new family member. It took less than 5 minutes for him to fire up his computer and access our local animal services website. Much to everyone's surprise, there was a black lab on the site and would you believe the pup's name was the same as our beloved dog. Talk about a sign!
My husband called the shelter to ask if they still had the lab. They informed him that the lab was being prepared to send to the prison mission program at that very moment. He asked if they could wait for 10 minutes and let the puppy meet us before they sent him away. They agreed and everyone at the house jumped in the car to go see the little dog.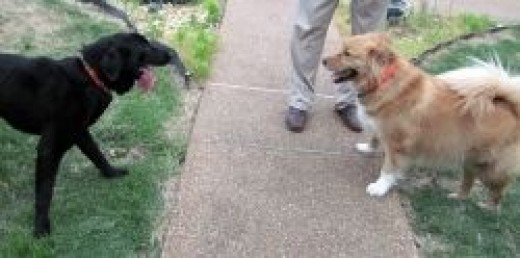 Of course, it was love at first sight. My husband ran back home to pick up our Golden Retriever and bring her back so the two could meet and make sure they would get along. No one likes a forced union. After a lot of sniffing, a little growling and even a bit of licking, our new family member was officially accepted.
One Week Later – How Our Pet Adoption was Going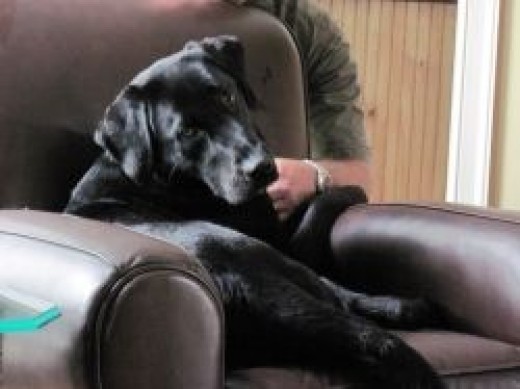 After a name change, a diet change and a domicile change, the 1 year old, 62 lb. black lab is home.
Even though he believes he should bathe with me when I bathe, he does help clean up by dragging the towels from the bathroom to the washing machine. He also enjoys giving everything in his path a shower, including the bathroom tile floor, the cabinets and anyone in the general vicinity.
He runs the backyard in circles so fast that the grass smokes under his feet. That is an exaggeration, of course, but it wouldn't be hard to imagine since he really is faster than a speeding bullet.
At first, we were concerned about his voice. He didn't bark for several days and we were afraid that his throat might be damaged by some unknown mistreatment. However, yesterday he barked and let me tell you, that dog can bark! I guess that is what we get for trying to sleep past daybreak.
There is also no need to make the bed. He will remove those pesky covers for me and shake them into submission. Alas. he has now made his bed.
He is a tremendous help in the kitchen. At his height, he can easily rests his paws on the kitchen counter and "lick the platter clean," even before we eat.
You may wonder about his continued relationship with our Goldie. Fear not, they are inseparable. They eat together, play together, take long walks together and fuss at one another. The perfect couple!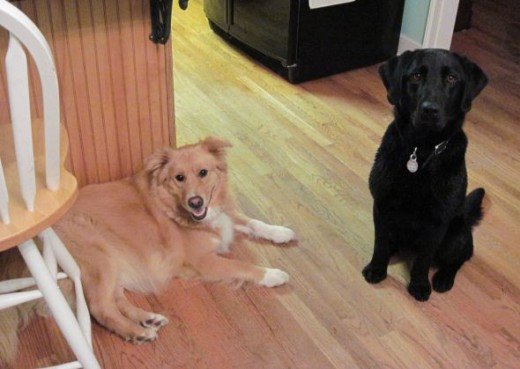 Why Adopt from an Animal Shelter
A Great Way to Spread Sunshine in the Lives of Others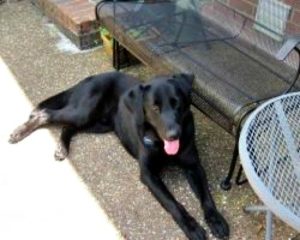 There are many good reasons to adopt from a shelter, none more important than giving a home to an animal in need. But, lets examine the other benefits too.
There is a tremendous savings on initial vet bills. Our local Animal Service had already administered the needed vaccinations. They had also neutered the lad before he joined our family.
Often times, as in the case of our lab, the animals are older, thus they are past the "chewing everything in sight" stage. Yes, I hear you, they are past the adorable puppy stage. Let me assure you, they are much cuter when they are not turning your chair legs into toothpicks.
They also often have some home training. This, of course, will vary, but a lab is extremely easy to house break. It took us only a few days instead of months, to teach our new dog to "go" outside.
Let's not forget about the wonderful benefit of having a loving, protective companion.
Supplies Needed for a New Dog
There are a few things every new dog needs when you first adopt him. A collar and Id tag, a water bowl, a food bowl and a whole lot of love!
Reflective Dog Collar for Medium Dogs, Adjustable from 12-17 inches, Blue Stainless Steel Pet Id Tags, Personalized Dog Tags & Cat Tags. Up to 8 Lines of Text – Engraved Front & Back. Bone, Round, Heart, Flower, Shield, House, Star, Rectangle, & Bow Tie. AmazonBasics Stainless Steel Dog Bowl – Set of 2
Why Adopt in the Summer
Family Friendly Dog Training: A Six Week Program for You and Your Dog
Summer is the best time to adopt a new dog simply because the weather is nice and warm. This makes training or house breaking your new family member much easier. By the time winter roars back around and everyone is indoors most of the time, a puppy will be potty trained and understand a few house rules.
For those of us who have school age children, summer is a perfect time for your children to interact with the new family member and to learn the basic responsibilities of owning, caring and loving a dog. Developing a close bond between your children and your new pet is essential to having a harmonious environment in which to live.
Merlin is a featured model in other articles. You can see him and read more about him in the articles listed below.
Spend a Day with Merlin the Labrador Retriever
The Kong Wubba Dog Toy on GiftMenagerie.com
Indoor Dog Gates Reviewed on ReviewThisReviews.com
This article was originally published by me in 2010 on a different site that no longer exists.
Unless otherwise noted with the individual photo, all Photos are mine and should not be used without written permission.
© Sylvestermouse
Originally posted 2017-05-16 13:43:50.