My sister and I live more than 500 miles apart and we only get to see each other 2 or 3 times a year. There is seriously not much telling what we will get into when we do finally get together and our husbands simply have to be prepared for whatever scheme we devise.
She recently came to visit me for a week. We ate out every night and zipped around town all day. We even spent one afternoon in the beauty shop together and both came out sporting a fresh cut and color. She looked quite beautiful. Our mom even commented that evening that my sisters' new hairstyle took years off of her appearance. Personally, I think it was more the "child" in both of us that appears when we are together.
The Beginning of Our Special Pineapple Upside Down Cake Recipe
We had a lot of fun all week long, but my favorite memory of our week together was when we decided we would make a Pineapple Upside-Down Cake. Neither of us had made one in at least 20 years and neither of us had a recipe, so we called Mom, who graciously shared her "mental" recipe for Pineapple Upside Down Cake.
We didn't have exactly the ingredients that our Mom's recipe required, so we did my favorite thing to do in the kitchen. We played! Oh, it is important to note, we did not want to go to the grocery store, so we used what I had on hand.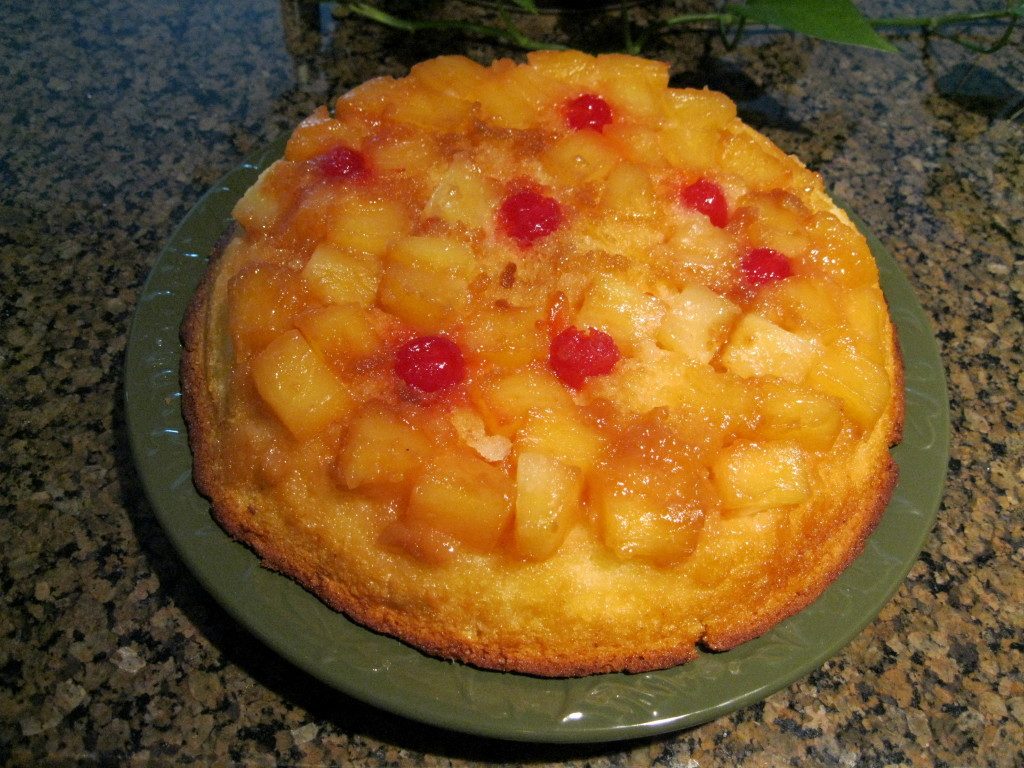 Our Improvised Recipe for Pineapple Upside Down Cake
Preheat the Oven to 350°
Ingredients
1 White Cake Mix
1 1/2 Sticks of Butter
Brown Sugar (that was so hard I couldn't break it with a hammer)
1 Can of Pineapple Chunks
7 Maraschino Cherries (from a jar that was 3 years out of date)
Last but by no means least, my grandmother-in-laws old cast iron skillet.
Directions for Making the Pineapple Upside Down Cake
Melt the Butter in the Skillet in the Oven
Mix the Cake according to the directions on the box, but substituting the water with the canned Pineapple juice drained from the can of pineapple chunks. Set aside
Sprinkle in brown sugar (Sprinkle is a rather kind word for what we did with the quarter size pieces of brown sugar. We did try to break them apart in the hot butter)
Place the drained pineapple chunks on top of the butter and brown sugar
Strategically place the "aged" maraschino cherries amidst the pineapple chunks
Pour the cake batter in the skillet on top of the pineapple and cherries
Bake for 40 – 50 min. ( a toothpick to the center will come out clean when the cake is done)
Cool for 15 min. and dump the cake from the skillet onto a large plate. Thanks to our generous portion of butter in the skillet, that cake turned right out perfectly onto the plate and it didn't break apart!
The Best Pineapple Upside Cake Recipe Ever
Lodge 5-Piece Cast Iron Cookware Set, BlackCheck Price
In spite of using a cake mix, concrete hard brown sugar, pineapple chunks instead of fresh sliced pineapple rings and "aged" maraschino cherries, this may well have been the best Pineapple Upside Down Cake I have ever eaten. Most likely due to the special ingredients of love and fun!
Will we make it again? Most definitely and exactly the same way!!!
* My Cast Iron Skillet is 10″, similar to the one featured in the set pictured
Originally posted 2013-10-10 14:51:06.